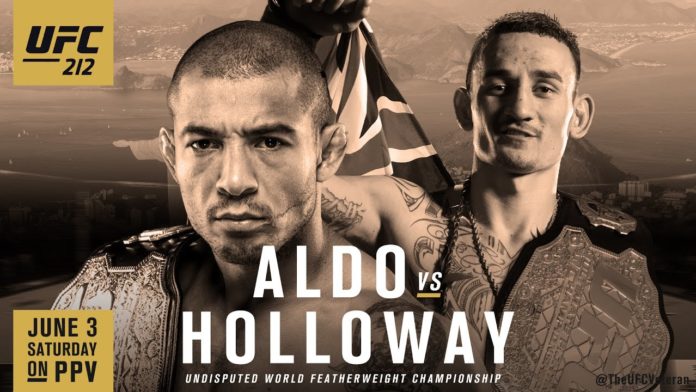 Any UFC event headlined by a Championship bout has the potential for excitement, but when both competitors are "Champions" (granted one is Interim) then at the very least the potential is at it's highest level.
UFC 212 features a UFC Featherweight Championship Main Event that will unify the existing and interim titles held currently by the two-time champion Jose Aldo and the current interim champion Max Holloway.
The event was also slated to feature former UFC Middleweight Champion Anderson Silva against former Ultimate Fighter winner Kelvin Gastelum. However, Gastelum got a little happy on the grass and failed his post-fight drug test for THC after his previous March 11th win against Vitor Belfort. Former Strikeforce and UFC Middleweight Champion Luke Rockhold was offered the bout, but Andy said it didn't make sense with Luke coming off an L so he passed. He then demanded a Nick Diaz fight or Uriah Hall, followed by the ultimatum of a interim title shot against Yoel Romero threatening retirement. The UFC and Anderson Silva did not secure an opponent, and on May 11th he was officially removed from the UFC 212 event.
Additionally, Felipe Arantes and Olivier Aubin-Mercier were scratched from the event in the weeks leading up with Arantes being replaced by Brian Kelleher and Aubin-Mercier's opponent Leonardo Santos deciding to pull from the event after his opponent's injury.
Despite the changes, no Anderson Silva, and a silly interim unification fight, here's why we think UFC 212 will still be a sleeper of a card and potentially one of 2017's best events.
Gadelha vs. Kowalkiewicz
Cláudia Gadelha is a monster. At 14-2, the Strawweight's only losses have come at the hands of the great Joanna Champion. As for the underdog Kowalkiewicz, she holds a 10-1 record, with her only loss coming again to Joanna. While most sites have the former as the heavy favorite for the fight, Trevor Dueck, oddsmaker at Sports Betting Dime sees the fight as being "more competitive than the odds suggest." You can read his full report here.
Belfort vs. Marquardt
This fight, eh, it's nostalgic at best. We've seen Vitor absolutely demolish people, and we've seen Marquardt get slept hard. Expect to see a highlight reel Vitor KO to end his days in the Octagon.
Borrachinha vs. Bamgbose 
Borrachinha is a UFC newcomer, having only one Octagon bout under his belt, but at 9-0 he's got the potential for greatness depending on how this one plays out. All 9 of Borrachinha's fights have ended via Round 1 stoppage so expect this one to be over quickly. As for the Nigerian Bamgbose, he is looking to rebound off his second UFC loss and with a current promotional record of 1-3 will be fighting for his job no doubt.
Silva vs. Medeiros
Erick Silva is overrated and Medeiros is a killer. Silva is 1-2 in his last 3, picking up a much needed submission win and Performance of the Night back in September of 2016. Medeiros himself has been no short of the action claiming both a Performance of the Night bonus for his last win over Sean Spencer and a Fight of the Night bonus in a decision loss to Francisco Trinaldo in May of last year.
The rest of the event features the following bouts:
Raphael Assunção vs. Marlon Moraes
Antônio Carlos Júnior vs. Eric Spicely
Johnny Eduardo vs. Matthew Lopez
Iuri Alcântara vs. Brian Kelleher
Viviane Pereira vs. Jamie Moyle
Luan Chagas vs. Jim Wallhead
Marco Beltrán vs. Deiveson Alcântara