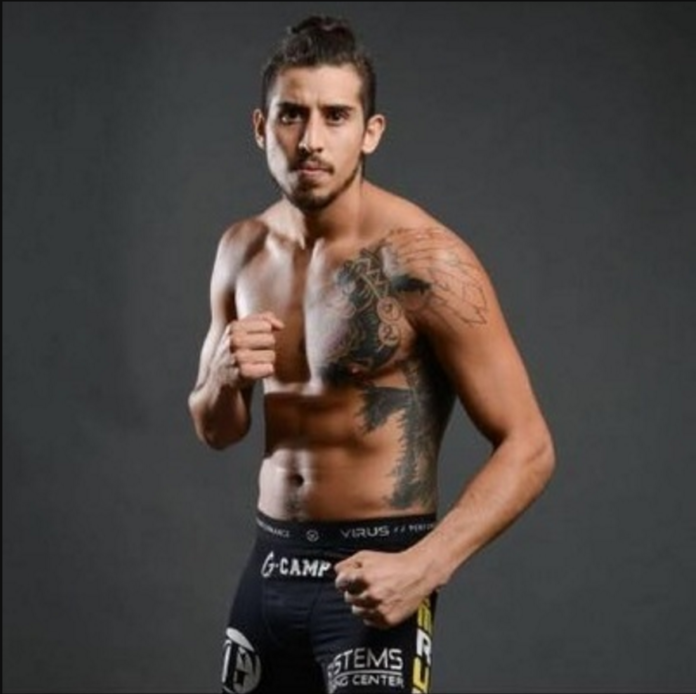 By: Nick Portella (@Nremtb)
What's going on fight fans? Today I will be speaking with Erick "Ghost Pepper" Gonzalez. Erick is 6-2 as a professional mixed martial artist and fights for Combate Americas. He has a fight coming on March 30, 2017 in Tijuana. Let's take a seat with Erick and learn a little more about him.
*
Nick:  What does it mean (for you) to be a fighter?
Erick:  It allows me to press my boundaries and going into uncomfortable zones to try to improve myself. It is everything to me because it is my life.
*
Nick:  At what age did you begin your training in martial arts?
Erick:  I went into my first MMA martial arts class at the age of 15. I trained on and off but at the age of 20 I began to train full time.
*
Nick:  What disciplines do you train and what belts do you have in them?
Erick:  White belt no gi, but I have been told I roll at a brown belt level. I also wrestled through school with multiple championships.
*
Nick:  How long have you been with Systems Training Center?
Erick:  I have been with Systems Training Center for almost 3 years.
*
Nick:  With your fighting style and 4 of your 6 wins coming via KO/TKO and 1 coming via submission do you prefer to keep the fight standing or is this just how those fights played out?
Erick:  I am comfortable taking the fight wherever it may go. I always prefer to exchange with the hands if I had my choice.
*
Nick:  What would you say your biggest strengths are?
Erick:  My biggest strength inside the cage is the jab. I have worked on it for a long time to perfect it and I am able to do lots of damage with it and set up other strikes and takedowns from it.
*
Nick:  What's your favorite strike to use in any fight?
Erick:  Hands down the jab.
*
Nick:  People talk about the next generation of fighters all the time. Do you feel that you represent the next generation of fighters in some ways? Do you feel any pressure to represent that next generation?
Erick:  I think I am part of the next generation. I am constantly going out of my comfort zone to learn more to be a better fighter. The smallest details no matter how small they are can make a huge difference. I don't really think about it that much. I am always evolving and come to each fight a new and improved fighter. I just go in the cage and fight my fight.
*
Nick:  With cutting weight and fighter safety always being a priority. How much weight do you usually have to cut before a fight? Do you feel the weight cut has a major impact on your strength before a fight?
Erick:  My weight cut does not have any effect on my performance or strength. I have a pretty easy weight cut.  I have I have gained a lot of knowledge that has made it easy for me. I actually eat a lot of food during my weight cut but due to eating healthy most of the time it is never an issue.
*
Nick:  You have the nickname Ghost Pepper, who gave you that name?  Why?
Erick:  I used to own a Mexican vegan restaurant. We had a business consultant that would come in and he knew that I was fighting. I would always eat hot peppers and salsa because it was there. He told me that every fighter has a nickname and I should have one, but I didn't want your run of the mill nickname. He told me that i should be called the Ghost pepper which was different. It stuck since then.
*
Nick:  With the USADA tightening up on fighters with pre-fight testing and several suspension being handed out, how do you feel about fighters getting banned for non-controlled substances?
Erick:  I recently just started taking supplements which are plant based only and vegan. I don't know what every last thing is on the labels so I would not take anything if I didn't know what everything is in it. If you take something that it is on the banned list and get caught you should get suspended.  It doesn't matter if it is legal or illegal supplements. As a professional you know what you can and cannot do.
*
Nick:  You understand that marketing is important in this sport.  Do you plan on one day having your own brand?
Erick:  I have plans to one day own my own gym. I also would like to have a Ghost Pepper brand when the time is right.
*
Nick:  Since you have made this journey what advice can you give to new fighters wanting to make this a career?
Erick:  I would give them the same advice my mom gave me.  If you're going to do something put in 100%.  If you're not going to give it your all it isn't going to work.
*
Nick:  You fought Danny Ramirez less than two months ago which won fight of the night honors.  Do you feel 100% taking another fight so soon?
Erick:  After my last fight I took a whole week off to rest.  I was feeling back to 100% after that week.  They called me shortly after my break and asked me if I wanted this fight.  I felt great so I took the fight and got right back into the gym.  I also signed a 5 fight with Combate.
*
Nick:  You will be facing a tough opponent in 7-1 Marco Antonio Elpidio.  How much does winning this fight mean to you and your career?
Erick:  It means everything to me.  He is ranked number 6 in Mexico and a win here will get me back into the spotlight or get a title shot.  It could also get me a rematch with Danny Ramirez.  We exchanged some trash talk on twitter after our fight and I would like to fight him again.
*
Nick:  Do you have any plans to try and got to Bellator, UFC, or WSOF?
Erick:  My ultimate goal is to go to the UFC.  that is where the best fighters in the world are and that is where i want to be.
*
Nick:  Do you have any predictions for how you see this fight playing out?
Erick:  I am excited to showcase my new striking.  I have plans to pick him apart and break him down on the feet or on the ground.  I do not want a fight to ever go to the judges.  I plan to TKO him in the first round.
*
Nick:  Do you have any plans already in place for after your fight on March 30?
Erick:  Eric Sanchez has called me out and has been talking about moving up to 155.  It would be a great match because he is a striker.  I also am looking to rematch Danny Ramirez.
*
Nick:  Who is your favorite MMA fighter past or present?
Erick:  Frankie Edgar.  I like his work, ground game, and his mentality game.
*
Nick:  If you could have one dream fight with anyone, who would it be?  Why?
Erick:  Anderson Silva in his prime.  He isn't my weight class but it would be fun for me.
*
Erick would like to thank everyone that has helped him along the way.  Coaches, family, friends, training camps, and his fans.  He appreciates you all more than you know.  He would also like to thank his head coach Ian Harris and Adam from A4.
---
Nick's Take: I enjoyed talking with Erick.  He is ready to go and has the attitude of a champion.  I wish him all the best in his fight on March 30.  Also, don't forget to follow Erick on Twitter @Ghostpepper_mma and Instagram Ghostpepper_mma.
Follow Nick on Twitter @Nremtb & Follow our website @MMA_Newsline for more Exclusive Interviews from your favorite mixed martial artists!