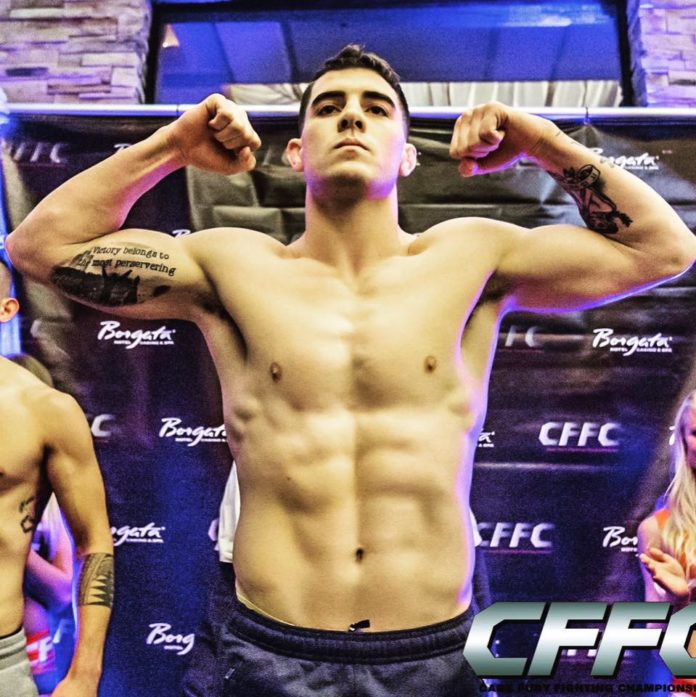 By: Nick Portella (@Nremtb)
What's up, fight fans!? Today I will be sitting down with CFFC fighter Joe Solecki. Joe is undefeated in his professional career and is in search of a title, so let's have a seat and get to know the man in the cage!
*
Nick:  What does it mean (for you) to be a fighter?
Joe:  It means everything; it fulfills a lifelong dream. Growing up training and combat sports minded, I would watch Rocky and I would watch the UFC and all I could imagine was being a fighter and martial artist one day. I have never pictured myself doing anything other than what I'm doing right now.
*
Nick:  At what age did you begin to train martial arts?
Joe:  I started training in Brazilian Jiu Jitsu at age 6. It's all I've ever done. To be honest it's all I ever really wanted to do.
*
Nick:  What belts do you have and in what disciplines?
Joe:  I have a brown belt in Jiu Jitsu. It's the only belt I have in any disciplines, but it also means more than any title or medal that I've won at this point because it took me 15 years to earn it.
*
Nick:  With an amateur record of 2-0, why did you decide to go to the professional
level so quickly?
Joe:  So I actually had five amateur fights. Depending on the site, it lists it as different things. But I did go pro pretty quickly, after one year and four days as an amateur. Personally, I'm stubborn and I also believe in myself, so I wanted to be a pro as soon as I could get licensed as one, especially having a long competitive BJJ history. I have a great coach and he made sure I was ready before making that move, not rushing anything. I'm just really big on walking the walk, ya know. If I want to be in the UFC and accomplish my goals, then I need to chase them, as aggressively and directly as possible. And competing too long at amateur wasn't going to count towards that, and was only going to delay me seeing how I actually stacked up to the other professionals. I'm 23, and far from old, but I also don't have forever, so as soon as my coaches gave the green light, I wanted to make the jump and start crossing off these goals.
*
Nick:  How long have you been with Fitness Edge MMA?
Joe:  I've been at Fitness Edge for 1 year now. I'm surrounded by knowledge, killers, and positivity every day. Our head coach is BJJ Black Belt and Bellator Vet Derrick Kennington. He's the main reason I came over, to work and learn from him. Through FEMMA, I started working with my boxing coach Chris Goude, who has tons of knowledge and who I had seen working with fighters for years, but our paths never crossed until this past year. The time he has invested in me is something I can't repay. FEMMA also has a huge facility and several S&C coaches. I started working with Keith Hare before my Pro Debut, and I feel like it's improved my ability to push so much. Our team is stacked man, we have so many good pros and a ton of up and coming ammies, and I really believe you are going to be hearing so much more from our team!
*
Nick:  What would you say your biggest strengths are?
Joe:  I feel like everyone would say grappling, and I definitely feel like I have strong grappling. But on paper, I didn't accomplish half of what a lot of BJJ guys in MMA have done before transitioning. I honestly think my biggest strength is discipline. I live super disciplined and I fight the same way. I stick to the game plan and adjust under pressure, and I really believe that's what I have in my favor. Far from special or talented, and I'm not a natural athlete by any means, but I know I will show up every single day and in some way get better or more prepared, and stay ready. I think that will carry me.
*
Nick:  What is your favorite strike/submission to use in any fight?
Joe:  I love the Rear Naked Choke. It's very definite. You don't "catch" someone in an RNC, ya know? If you got it, it means you worked your way to the position to get the finish.
*
Nick:  The next generation of fighters is a term we hear very often.   Do you feel that your fighting style represents the next generation of professional mixed martial artists?
Joe:  I hope so! I haven't gotten to show too much outside of jiu jitsu, but I think so. I think the way we train at Fitness Edge MMA is a good blend of gritty and tough, but smart, strategical, and scientific, which is the biggest difference in the next generation of fighters, I think. The past few years have produced some great new data and I think our team has implemented a lot of it to our advantage.
*
Nick:  You are currently 3-0 with 3 submission wins.  Do you prefer the submission game or do you take what is presented to you at the time?
Joe:  My heart will always belong to jiu jitsu. It's been there on my best and worst days since I was 6 years old. But I love every single aspect of the game, from striking, grappling, and even Strength and Conditioning, which I feel like a lot of people hate haha. But I really do love it all, I've fallen in love with boxing the past 6 or 8 months, training, watching it, etc. But yeah, whatever is there is what I prefer.
*
Nick:  Cutting weight and fighter safety is always a priority, what methods of cutting weight do you use?  How much weight do you usually have to cut before a fight?  Do you feel the weight cut has a major impact on your strength before a fight?
Joe:  I stay pretty close to weight all year. Like I said, I try to be disciplined. Also, I have always been big into health and wellness as a whole. So for me, it's a matter of cutting a few things out in the last few weeks before the fight and I am good to go. I don't have one of the biggest weight cuts for '55, but it's still a decent amount. I feel amazing on fight day, especially with the rehydration method that my coach has me follow. I used to just drink water and then eat normal. He gave me a lot more info on both pre and post cut do's and don'ts, that has helped a ton.
*
Nick:  CFFC is one of the local promotions that has been putting on excellent shows.  Some fighters have gone through there and ended up with contracts in the UFC.  Do you have any plans to make the jump to UFC or Bellator?
Joe:  That's the only plan, my man. I really do believe this is what I'm meant to do with my life. I'm very happy fighting for CFFC, it has been an amazing experience. When the time is right, I want to win the CFFC Title, and I want to work my way to the UFC. It will be up to me to get the results, but then the opportunity will have to come up when the time is right. But I will be ready to jump on it when that day comes!
*
Nick:  Most fighters get branded with a nickname at some point.  Do you have one?  If so what is it and who gave it to you?
Joe:  No nickname, at least none that have stuck. And I'm absolutely fine with that haha!
*
Nick:  With marketing being such an important part of a career, are there plans to have any products made specifically for you for sale?
Joe:  Every fight I do a walkout shirt specific for that fight, and try to incorporate something from the place where I'm fighting or something personal to me. Last fight, my sponsor Kahiko Clothing made an awesome shirt for me and we will be having one again for my next one. They do great work!
*
Nick:  At CFFC 63 you faced Kevin Perez.  Did you see the fight ending the way that it did before entering the octagon?
Joe:  I really didn't have a prediction. Everyone gets into the whole "You're gonna win in the 1st round" hype and nonsense, but I really do just envision doing whatever it takes to get the job done, and I always picture it as a dog fight. Just with my hands up at the end.
*
Nick:  What's next for you in the MMA world?
Joe:  I will be fighting at CFFC 65. I am almost positive I have a definite opponent, and if it's who we think, then it's a great matchup against a really tough guy. But I will 100% be on that card.
*
Nick:  Who is your favorite MMA fighter past or present?
Joe:  Frankie Edgar!
*
Nick:  If you could have one dream fight with anyone, who would it be?  Why?
Joe:  Man, that's a tough one. Realistically, I want to fight Mike Pope, since he has the CFFC Belt right now. Nothing to do with him, but he's the champ and Winning that belt will change my life. That's my real dream. But if we are talking big dream scenarios, I would've loved to have been, like a boxer in the 20's or 30's in another life, ya know? Like in Cinderella Man, back when the fight game was just about fighting and was prestigious/classy, but super gritty and to have fought at MSG back then. I'm not into a lot of the theatrics that come with MMA sometimes.
*
Nick:  I have to ask for the fans, any spoilers or breaking news coming from you in the near future?
Joe:  I will be fighting in Philly at CFFC 65 at 2300 Arena on May 20th. I'm super excited to come back home and go to work again. I haven't stopped working since the last one, so I will 100% be a better version of myself come May 20th.
*
Joe wanted to send a special thank you to a few people — his coaches, Derrick Kennington, Chris Goude, and Keith Hare as well as his team at Fitness Edge MMA for pushing and inspiring him on the regular. He also wanted to thank his Fiancee for all of her support day in and day out, she's the only one who really sees it all. These past 2 years since he has begun fighting have been unreal and he is thankful for every opportunity and for all of the support from all of the awesome people who reach out, some whom he has never even met. It means a ton.
---
Nick's Take: I have to say Joe has the right attitude, excellent habits, and is sure to go places.  I for one am excited for his next trip to the cage.  Keep your eyes open for this guy!
Follow Nick on Twitter @Nremtb & Follow our website @MMA_Newsline for more Exclusive Interviews from your favorite mixed martial artists!