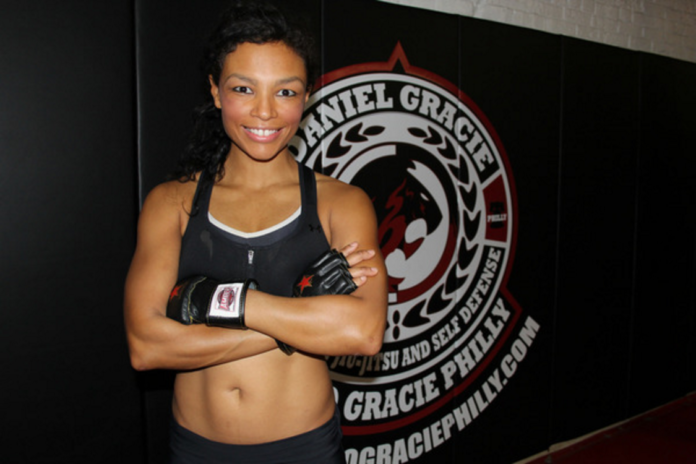 By: Nick Portella (@Nremtb)
Good day fight fans, today we will sit down with King of the Cage strawweight Jamie Colleen! Jamie recently signed an exclusive deal with King of the Cage (KOTC) — an organization that has put a strong emphasis on their women's strawweight division in recent times. Let's ask Jamie (MMA Record 3-1) some questions and get to know her a little better!
*
Nick: Congratulations on signing an exclusive deal with King of the Cage. How does that feel?
Jamie: Thank you! Feels great! It means a lot to continue my journey with such an amazing organization that makes a big effort in building their female fighters.
*
Nick:  What does it mean (for you) to be a fighter?
Jamie:  It is a way for me to test myself in the cage and to push myself beyond all barriers, but fighting also goes beyond the physical side of things. It's a way of life.
*
Nick:  At what age did you begin to train martial arts?
Jamie:  I began training martial arts at 19.
*
Nick:  What belts do you have and in what disciplines?
Jamie:  I am a blue belt in Jiu Jitsu
*
Nick:  What was your amateur fight record?
Jamie:  1-0
*
Nick:  How long have you been with Renzo Gracie Jiu Jitsu?
Jamie:  I have been training under Renzo for three years.
*
Nick:  With a clear background in Jiu Jitsu but your three wins coming via KO/TKO do you prefer to keep a fight on your feet or take it to the ground?
Jamie:  I love to strike, but I'm comfortable on the ground as well.
*
Nick:  What is your favorite strike/submission to use in any fight?
Jamie:  I love using my right hand. Either straight rights or over hands.
*
Nick:  What would you say your greatest strength in the cage is? Greatest weakness?
Jamie:  My greatest strength would have to be my mental toughness. I don't really know that I can say fighters have weaknesses in that sense. If we aren't good at something, we work our asses off until we get better in that area. This sport is ever evolving and there is always something to improve on. Every time I step on the mats, if I'm not failing I'm not improving. It's hard to call that a weakness.
*
Nick:  You have a 3-1 professional record. Do you have plans to one day sign with the UFC or Bellator?
Jamie:  Absolutely. As a fighter, the goal is to become the best in my division on the biggest stage.
*
Nick:  People talk about the next generation of fighters all the time. Do you feel that you represent that in some ways? Do you feel any pressure to represent that next generation?
Jamie:  I can't really say that I represent the next generation. I've been around this sport for a long time.
Getting #strongereveryday 😈 @DanielGracie @seanshelby @kingofthecage #ufc #kotc #comebackkid2017 #headhunter pic.twitter.com/AY2w3WmuZ8

— Jamie Colleen (@jamiecolleen85) March 2, 2017
*
Nick:  With cutting weight and fighter safety always being a priority. What methods of cutting weight do you use? How much weight do you usually have to cut before a fight?  Do you feel the weight cut has a major impact on your strength before a fight?
Jamie:  I typically start early on for weight cuts because it's pretty tough for me to drop the weight if I don't give myself a proper timeframe. I usually drop 20 pounds during camp, so it's super important that I drop the right way in order to maintain my health and strength. Weight cuts, in general, have an impact to a certain degree, but again, it's all in finding the proper method that works.
*
Nick:  Most fighters get branded a nickname at some point in time. Do you have one? If so who gave it to you? Why?
Jamie:  I do not have a nickname, but I am currently accepting new ideas.
*
Nick:  You understand that marketing is important in this sport. What tips would you give young up and coming fighters on the balance of presenting yourself based on beauty vs. brawn or skill alone?
Jamie:  Marketing is important but I would say that it's more important to stay grounded and stay true to yourself.
*
Nick:  How was it being in the ad for Title Boxing?
Jamie:  It was a little surreal at first to see myself in ads for such a reputable company, but what an honor to shoot with them! So many great memories.
*
Nick:  Who is your favorite MMA fighter past or present?
Jamie:  I've always loved Anderson Silva. He's extremely methodical and calculated.
*
Nick:  If you could have one dream fight with anyone, who would it be?  Why?
Jamie:  My current dream fight would be a rubber match with Danielle Taylor. We have to settle the score eventually!
*
Jamie would like to thank Daniel Gracie Team, Renzo Gracie Academy NYC, DaFirma Kimono Company, Deadlux Counterculture, Bouchard's, Brocato's Italian Market, Philly Phitness, Title Boxing, Under Armour Women, Fearless Athletics, Eyefight Sports Nutrition, and Halcyon Floats. She would also like to send a special thank you to her amazing family, friends, teammates, and fans!
---
Follow Nick on Twitter @Nremtb & Follow our website @MMA_Newsline for more Exclusive Interviews from your favorite mixed martial artists!