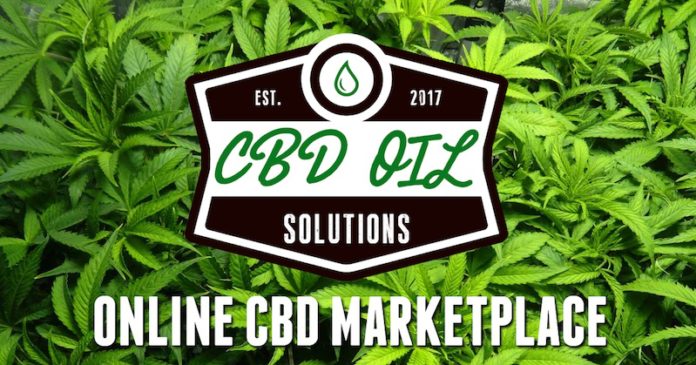 Press Release
Denver, CO - As the number of consumers searching for Hemp derived CBD Oil products continues to rise, those consumers can now be excited about CBD Oil Solutions, a one-stop online marketplace for a wide range of CBD products from many of the industries top brands. The digital marketplace allows consumers to shop from multiple vendors on one single website with a selection of over 100 SKUs all shipping free on domestic orders throughout the United States. CBD-Oil.Solutions is also allowing consumers the ability to choose not only from a variety of CBD vendors and product types, but also how they want to pay by proudly accepting Visa, MasterCard, E-Check, and Bitcoin payments.
CBD is the abbreviation for Cannabidiol, a cannabinoid that is extracted from the cannabis plant. The products sold by CBD Oil Solutions are all extracted from federally legal Industrial Hemp plants, part of the cannabis sativa family. These plants are grown legally under the United States Farm Bill of 2014 signed by President Barack Obama, the 44th President of the United States of America.
CBD Oil Solutions is positioned in the heart of the growing and legal CBD Oil industry. Forbes predicts a 700% increase in the CBD market by 2020 and market intelligence firm Hemp Business Journal projects that the CBD market will grow to $2.1 billion by 2020 as well. This is a jump of over 900% in value compared to 2016's CBD market of $202 million. The World Health Organization (WHO) recently released a preliminary report regarding CBD and stated "To date, there is no evidence of recreational use of CBD or any public health related problems associated with the use of pure CBD," and that CBD is "not associated with abuse potential." The World Health Organization team went on to state that CBD has "been demonstrated as an effective treatment for epilepsy" and "preliminary evidence" that CBD could be useful in treating  Alzheimer's disease, cancer, psychosis, Parkinson's disease, and other serious conditions.
CBD Oil Solutions currently offers over 100 SKUs in multiple strengths, scents, flavors and delivery mediums for Cannabidiol. The marketplace carries over 10 brands, many of which have been vetted by Reddit's r/CBD community. Product categories included CBD Tinctures, CBD Vape Oil, CBD Isolate, CBD Topicals, CBD Capsules, CBD Concentrates, CBD Edibles, and more.
Hemp grown under the industrial hemp farming act contains less than 0.3% THC. THC is the shortened abbreviation for Tetrahydrocannabinol which is a psychotropic cannabinoid that is derived from the cannabis marijuana plant. Hemp CBD products contain no psychoactive effects as they contain anywhere from absolute zero to 0.3% or less THC.
Launched in September of 2017, CBD Oil Solutions hit the ground running and have already become a leading CBD Oil online marketplace. Customers receive free shipping on every order and can checkout with a variety of payment methods.
The marketplace has recently launched an extensive Search Engine Optimization campaign along with paid advertising campaigns through various ad networks, influencer relationships and content marketing partnerships.
Learn more about the marketplace and shop it's products at https://cbd-oil.solutions