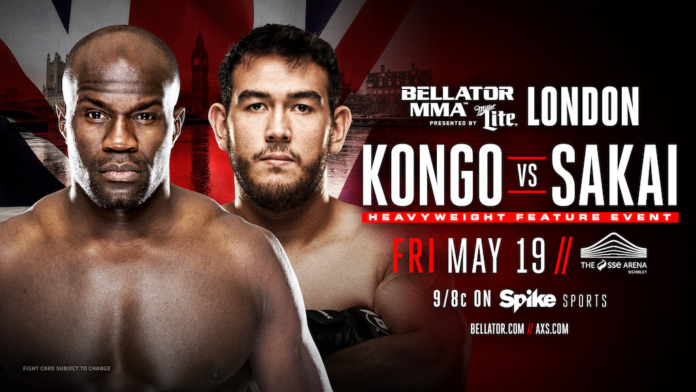 A Heavyweight feature bout has just been added to May 19th's Bellator MMA event at the SSE Arena in Wembley. Former UFC Heavyweight and current Bellator MMA Heavyweight contender Cheick Kongo (26-10-2) will meet the dangerous Brazilian knockout artist Augusto Sakai (9-0-1).
Kongo, the French-born heavyweight, is currently riding a four-fight win streak in the Bellator MMA cage that includes wins over Oli Thompson and Alexander Volkov, while the 25-year-old Sakai looks to remain unbeaten and make a name for himself in the division.
Additionally, preliminary matchups for Bellator 179 featuring some of the U.K.'s best up-and-coming talent have been finalized for the event.
Bellator 179: Daley vs. MacDonald will be broadcast on SPIKE at 9 p.m. ET/8 p.m. CT. Tickets for the event are on sale now at The SSE Arena, Wembley Box Office (0844 815 0815), ssearena.co.uk and axs.com.
Updated Bellator 179: Daley vs. MacDonald Main Card:
Welterweight Main Event: Paul Daley (39-14-2) vs. Rory MacDonald (18-4)
Welterweight Feature Bout: Michael Page (12-0) vs. Derek Anderson (14-3)
Light Heavyweight Feature Bout: Liam McGeary (12-1) vs. Linton Vassell (17-5)
Heavyweight Feature Bout: Cheick Kongo (26-10-2) vs. Augusto Sakai (9-0-1)
Preliminary Card:
Lightweight Preliminary Bout: Jay Dods (6-0) vs. Alfie Davis (6-1)
Heavyweight Preliminary Bout: Rob Beech (4-1) vs. Stav Economou (17-5)
Flyweight Preliminary Bout: Jamie Powell (6-1) vs. Amir Albazi (8-0)
Welterweight Preliminary Bout: Umer Kayani (4-3) vs. Nathan Jones (10-5)
Welterweight Preliminary Bout: Dan Vinni (14-14) vs. Alex Lohore (10-1)
Middleweight Preliminary Bout: Liam Etebar (6-1) vs. Rafal Cejra Cejrowski (2-0)
Catchweight Preliminary Bout (150 lbs.): Jeremy Petley (10-8) vs. Chase Morton (6-3)
Middleweight Preliminary Bout: Marcin Prostko (4-5) vs. Mike Shipman (9-1)
Bantamweight Preliminary Bout: Salih Kulucan (4-5) vs. Diego Barbosa (3-0)