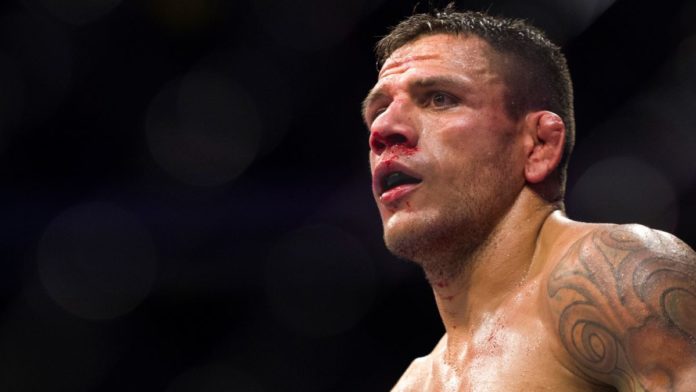 Former UFC Lightweight Champion Rafael dos Anjos has had over eight months to reflect on the night he lost his title to Eddie Alvarez, and he says if he had the chance to do it all over again — he wouldn't have stepped into the octagon because his body shut down during the weight cut to 155 pounds.
"If I could change, I wouldn't fight, you know? We see all the time people pulling out because they can't make weight, they pass out and I should do the same, but I was thinking about the fans, about the show. I don't want to upset people, but if I could — it cost me my title. But it's fine, everything happens for a reason," dos Anjos told MMA Fighting earlier this week.
Rafael passed out moments before weighing in for the main event of UFC Fight Night 90, for nearly 3 minutes, and he says even though Eddie Alvarez deserves all the credit for beating him that night, the hellacious weight cut affected his performance.
RDA passed out & unresponsive for 3 minutes before fight with Eddie Alvarez pic.twitter.com/l2QAvYnasH

— Zombie Prophet (@ZPGIFs) November 15, 2016
The Brazilian told ESPN's Brett Okamoto earlier this year:
"Everything was on plan. We had 3 pounds to lose the morning of the weigh-in. The night before, we had lost 8 or 9 pounds during training. I jumped in the [Epsom salt] bath for 15 minutes, and when I stood up, I felt dizzy. I sat down again on the edge of the bath and felt OK, started to stand up again, and I just fell backward. My head was two inches from the faucet. I could have died that day.
My coaches took me out of the bath and placed me on the bed. I came back for a couple seconds and passed out again. I came back and passed out a third time. I was almost out for three minutes, they said. At one point, they said, 'Let's call 911 and cancel the fight.' I woke up and asked them what was going on. And after all that, I still didn't know if I had made the weight. So I had to check my weight, but I couldn't stand up. I lied down with a cold towel on my head. It took me about 40 minutes to get up. I checked my weight, and it said 155. If I hadn't been on weight, there's no way I could do any more. I couldn't do it. On the walk to the weigh-ins, I was just feeling miserable."
Dos Anjos attempted the weight cut once more against Tony Ferguson at The Ultimate Fighter Latin America 3 Finale in November, and even though he successfully reached the 156lb lightweight non-title weight limit, he said that cut was also "too stressful." Rafael ultimately lost a 5-round decision by scores of (48-47, 48-47, 48-47), though Ferguson landed a controversial eye poke in the fight that appeared to affect the Brazilian's performance.
Dos Anjos will now jump up to the 170-pound division and wants to fight on one of the upcoming events in Brazil or Singapore against a big name such as Former UFC Welterweight Champion 'Ruthless' Robbie Lawler or former Strikeforce Welterweight Champion Nick Diaz — especially because he already beat his Nick's younger brother, Nate, back in 2014.
"I never pick fights all my life, I want to fight the top guys," said dos Anjos, who added that even though he would have to cut a little bit of weight at welterweight, it would be much easier on his body than the drop to 155.
---
---
Follow @MMA_Newsline on Twitter for the latest MMA News, Exclusive Interviews and more from your favorite mixed martial artists!