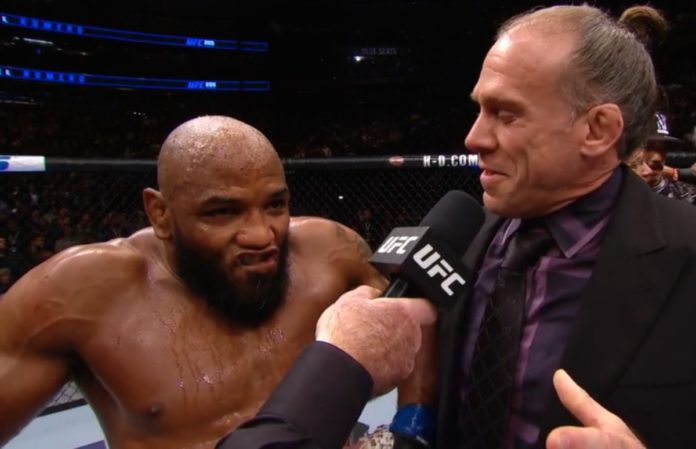 If Yoel Romero has taught us anything in the last few months, itā€™s that you donā€™t need to speak fluent English to get people interested in your upcoming fights — but you do need to have something to say, somethingĀ intelligible.
Romeroā€™s always had something to say, but last part? Well…
The misunderstood 'Soldier of Godā€™ went from being one of the most puzzling fighters on the UFCā€™s roster to a man with a very clear message that everybody can understand: MIchael Bisping Will Feel The Wrath of Yoel Romero Next and He Canā€™t Run For Long.
But how did Yoel Romero go fromĀ unintelligible to beloved in such a short amount of time? We didnā€™t get all of that information above from, "See you soon, Boy!"
Romero didnā€™t connect with the casual fans early on in his UFC career because from a fanā€™s perspective, he was easy to dislike. Yoel wasnā€™t easily understood, people put words in his mouth because of his thick accent, he controversially defeated the American Hero Tim Kennedy, he knocked out Chris Weidman in front of a hostile New York crowd in MSG, he was briefly suspended by USADA and called a cheat, and outside of a few phrases, Yoel Romero didnā€™t have a voice. Even though he would speak, he wasnā€™t really saying anything.
Enter Ray (pictured on the right), a friend and training partner of Yoelā€™s that recently became the English translator for many of Romeroā€™s media appearances (notably UFC 205 & a few MMA Hour appearances).
Ray doesnā€™t just repeat Romeroā€™s words, he speaks exactly like 'The Soldier of Godā€™ does, mannerisms and all — itā€™s incredible. Even though heā€™s had other translators, they just donā€™t stack up to Ray, who has helped transform the publicā€™s perception of Romero from a 185-pound cheater to the hero of the Middleweight division, a hero poised to dethrone an ever fleeing King Bisping.
Instead of 'No for (forget) Gay Jesus,ā€™ 'What Happen Americaā€™ and other lost-in-translation ramblings, we are treated to clear, uncut, accurate thoughts directly from the mouth and mind of Yoel Romero — translated accurately in seconds with the same emotion and enthusiasm they were spoken with originally. All thanks to Ray!
For example on this Mondayā€™s episode of the MMA Hour, Romero and Ray got to speak with Ariel Helwani and sent message after message to current UFC Middleweight Champion, Michael Bisping.
"Weā€™re just waiting for Mr. Bispingā€™s Recovery."
"He is trying to Avoid a Fight with Me."
"I have no worry whatsoever, I sleep like a lion full of confidence — extremely tranquil."
"If you have a sin, God is going to remit against you."
With a large percentage of non-English speaking fighters on the roster, the UFC would be wise to ensure more fighters have quality translators present regularly so they can do English media appearances without losing anything in translation, words or otherwise.
Yoel deserves all the credit in the world for his performances inside the octagon, and his promos were memorable long before Ray became a staple in his media career, but the exposure he has gained through his many recent media appearances canā€™t be ignored — and Ray deserves recognition for that.
Do you think Bruce Buffer will say "Yyyyyyyy Nuuueeeeevvvvooooo!!!!" or "aaand Still!" when 'The Soldier of Godā€™ and Michael 'The Countā€™ Bisping finally meet inside the octagon for the Middleweight strap later this year?
"The world knows that, he (Bisping) knows that, his wife and kids know that he is trying to avoid fighting me."
#YNuevo or #andStill?
Follow us on Twitter @MMA_NewslineĀ and let us know what you think!