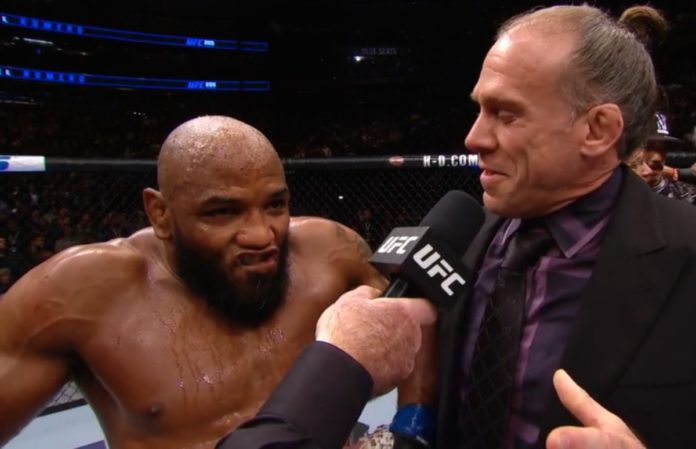 Yoel Romero is open to fighting again before Michael Bisping defends his UFC Middleweight Championship against Georges St-Pierre later this year, but only if he is offered a fight against former UFC Middleweight Champion Anderson 'The Spider' Silva for a 185-pound interim title.
"The only person that is amongst those great stars is Anderson," Romero (and his translator, Ray!) said on The MMA Hour Monday, noting that he's already fought and beat everybody else.
Specifically, Romero mentioned that he deserved to be paid for the work he did back in November at UFC 205 — dispatching the man who defeated 'The Spider' twice, Chris Weidman, via flying knee: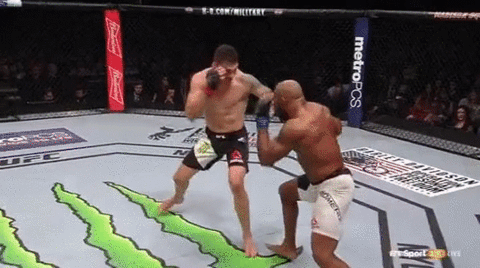 Romero isn't necessarily concerned with money, but he does want to start building his legacy immediately and getting a championship, undisputed or interim, is his priority. He's not even mad at the man who's fighting Bisping for the Championship instead of him, Georges St-Pierre, rather, GSP just took advantage of the opportunity he was given. Yoel said that everything happens for a reason and that Dana White will make things right, "like he always has."
"The person who should assume responsibility is the person who has the belt," Romero said with UFC Middleweight Champion Michael Bisping in mind.
Ahead of his fight with Derek Brunson at UFC 207, Anderson 'The Spider' Silva threw some shade at 'The Soldier of God,' as he claimed there wouldn't be as much interest in a Bisping vs. Romero as there would be for a Bisping vs. Silva rematch — going so far as to say Romero getting snubbed of a title shot was "best for business."
Michael Bisping said at a press conference last week that he willing to fight Romero on short notice. "If he's so good then just keep beating people," Bisping said.
"Georges will not hurt me. In six weeks after this fight, I will fight Yoel Romero."
Anderson Silva last competed at UFC 208, defeating Derek Brunson by unanimous decision.
---
Follow @MMA_Newsline on Twitter for the latest MMA News, Exclusive Interviews and more from your favorite mixed martial artists!